How to Perform a Step-By-Step SEO Audit
Are you pleased with your site but worried about its lack of traffic? Are you wondering why your competitors are ranking above you on Google with their inferior sites? Do you want to know how you can site's search engine performance and attract more visitors, leads and revenue? Sounds like you need to perform an SEO Audit! So welcome to the " Ultimate guide to Performing an Actionable SEO Audit"
Conducting an SEO audit may sound mind-numbing, but it is one the most game-changing and revenue-impacting procedures that you can perform on your business RIGHT NOW. Once the audit is complete you should have a bespoke and actionable, step –by- step solution to solving any problems and improving the SEO performance of your site and beating your competitors!
Being featured at the top of Google for your search terms may seem like a tall order now, but an SEO audit can turn the tables and help you get more visitors to your site from search engines. This could translate to millions in additional sales and revenue!
The purpose of this post is to show you how to perform a comprehensive SEO Audit so that you can start to make these changes on your site yourself.
Before you start performing your own SEO Audit I guess you'd want to know how exactly what an SEO Audit is as well as the importance of doing it.
What is an SEO Audit?
Its a great question! An SEO Audit is a comprehensive evaluation of a website based on factors that are essential for the search engines when it comes to organic search results. It largely involves checking the website step by step against a list and identifying issues that need to be fixed or changed in a bid to improve the website's search engine performance. It is essentially an MOT for your website. You may have an all singing and all dancing beautiful site, but if Google an other search engines don't know how to "read" it then you'll never get found!
While there are many free SEO Audit tools out there, they cannot deliver the kind of results you will achieve by implementing the audit techniques you are going to learn in this article. Our recommended audit will give you exceptional results and maximize your time and effort.
Want to read a completed SEO Audit?
What is the Impact of performing a bespoke SEO Audit?
An SEO audit that is unique to your site gives you an actionable plan for boosting your website's search engine performance. With a good SEO audit, you will be able to:
Compare with your competitors and get an unfair advantage!
Instantly identify what needs to be changed and know how to do it.
Understand, at a glance, how efficient your website is from an SEO point of view.
Identify your website's weaknesses and know how to fix them.
Set realistic expectations for your website.
Have ongoing opportunities for improvement. While you may not be able to improve on all the things on your SEO audit at once, you will have a range of things to work on over time.
What Skills Do You Need To Perform an SEO Audit?
We'll go through this audit step-by-step so as long as you can follow instructions you should be fine! There is some technical jargon and concepts that you need to get to grips with before you embark on this audit:
Understand the major SEO terms – URL, ALT tag, meta description, robots.txt, image compression.
Be familiar with some basic SEO tools – Some of the most effective tools are Serpstat, Moz, and Screaming Frog.
Have some website technical know-how – Otherwise, this audit will be quite challenging for you.
If you are new to the SEO world, don't worry. You can still do this. You just need to be good at following instructions, we'll teach you along the way!
We will introduce and link you to each of the tools that you'll need in each section so won't list them now.
What does an SEO Audit Consist of?
Source (https://www.quicksprout.com/2015/07/31/the-beginners-guide-to-technical-seo/)
An SEO audit covers three main areas:
Technical – A website should have a strong technical foundation in order to be successful. This aspect is may best be handled by your web developer or designer.
On-page – This is all about the website content; having the right keywords in the right places and the overall look and feel of the site and user experience, (UX), of the site is important too!
Off-page – This focuses on what your competitors are doing on their site, backlinks, social media, brand mentions, as well as external ranking factors.
By the end of the process your audit will have three main sections, which correspond to the three main SEO areas.
Technical SEO Audit
Does the term "Technical SEO Audit" strike fear in you? The technical part is the most nerve-wracking part of an SEO audit, it is however, integral to the success. It's aim is to examine how accessible the website is to search engines and bots. To ensure maximum accessibility, you need to ensure that all technical foundations are in place. We have seen sites that have great content fail because of one or two technical glitches.
A website's technical components are akin to a vehicle's engine. The engine has to be well taken care of for the vehicle to function efficiently.
Here's how to improve the function of your website's engine:
DNS Settings
This involves checking to ensure that bots are not getting errors when crawling your website. The best way to do this is via Google Search Console (www.google.com/webmasters/tools). If you are not connected to search console I urge you to do so ASAP. It's all free! We'll be using Search Console to perform a number of checks including the DNS Settings Check, which is first up on our hit list.
How do you do it?
Log in to Google Search Console,
On the dashboard, check "current status,
If you get a green tick, then your DNS is in good condition.
If you don't want to use Google Search Console you can perform a free test on pingdom, (http://dnscheck.pingdom.com) which will provide a great analysis.

What Should You Look For?
The test should give you either an all-clear sign or detailed explanation of any issues that need to be fixed.
Server Errors Check
Simply put this identifies if there are any problems with your web server that you should look in to!
Here's how to do it:
Look for the "server connectivity" on the Google Search console dashboard. This should be a green tick.
Whilst you are here take a moment to navigate to:
Crawl > Crawl errors > Server connectivity
If there are any server connectivity issues they will be highlighted and you can start to address them.
 
Robots.txt Validation
Here's how to check it:
Robots.txt fetch is one of the Google Search Console dashboard elements.
A more in-depth tool can be accessed in Google Search Console
Crawl > Robots.txt tester
What Should You Look For?
If there are no errors, then all is well. However, it is imperative to ensure that there are no major areas of the website being blocked by its robots.txt.

404 Handling and Errors
This checks for the number and speed of missing pages, which could be indicative of problems with the website's performance or server.
Here's how to check it:
Google Search Console > Crawl > Crawl Errors > URL Errors > Not Found
What Should You Look For?
If there are a few 404s, there's nothing to worry about. However, if there are thousands of 404s, then you need to dig deeper and find out what is happening.
Site Security (HTTPs)
Search engines give preference to secure sites. In order to improve your search rankings, therefore, you need to ensure that your website is secure.
Here's how to check it:
The URL should be https:// and not http://. The "s" shows that the website is secure. Also if you are running the most recent version of Google Chrome it will display as "Secure" in the URL bar as shown in the image below.
HTML Validation
It is advisable to perform a free check up on the validation of your website's HTML.
Here's how to check it:
There's a free tool at the World Wide Web Consortium (https://validator.w3.org/) that you can use. :
What Results Should You Look For?
The tool may identify many errors. You don't have to panic. Consider sharing the report with your web developer so he can make any necessary amendments. "Fatal Errors" should be given first priority.
Indexation
Ensure that Google is indexing every page that it should. In fact, the number of indexed pages that your website features on Google search should be close, if not equal, to the number of indexed pages shown in The Search console.
Here's how to check it:
Simply search Google for "site:[your URL]" eg "site:kobestarr.io". Then, check the number of indexed pages.
Check Search Console:
Google Index
Index Status
What Should You Look For?
If there are significant differences in the results, you need to investigate the issues.
Structured Data
Structured data markup describes things on your website, along with their properties. For example, if your site sells shoes, you could use markup to describe properties for each shoe, such as the summary, the URL to a photo for the show, and its overall customer rating. Structured Data is becoming more and more important as this means that you content will appear in search engine results pages with more space and rich media such as images, review stars and site extensions.
Results with rich mark-up will be more appealing to people that are searching and will attract a higher click through rate. Have a look at the rich snippets produced when searching for "Guardians of the Galaxy".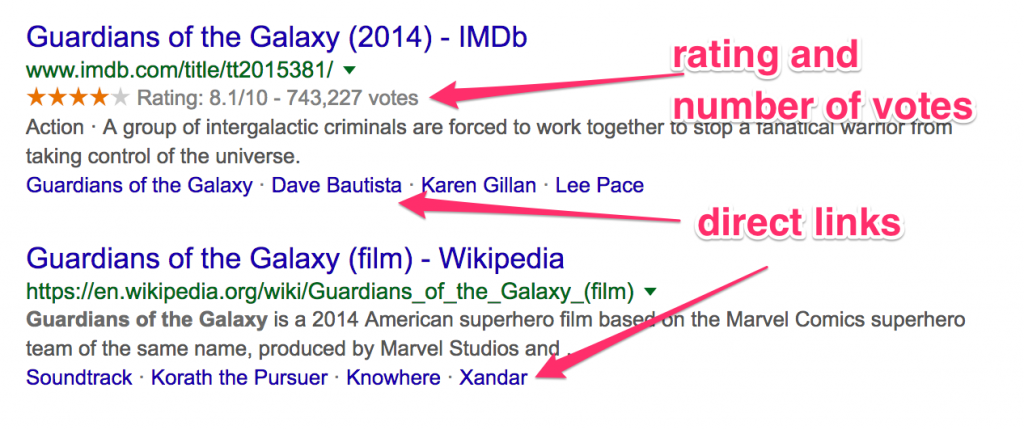 So now that we have explained what structured data is, let's see how to check for it!
Here's how to check it:
Google Search console > Search appearance > Structured data
What Should You Look For?
You will get a comprehensive report from Google. While structured data may be time-consuming to incorporate into a website, it has some positive impacts on search results as your "online real estate" and the clickable area will be larger and take up more space on a search engine results page.
XML Sitemap
This is for bots only. If your website doesn't have an XML sitemap, it's a missed SEO opportunity.
Here's how to check it:
To begin with, you need to ensure that the site has an XML sitemap. To do this, simply check Search Console > Crawl > Sitemaps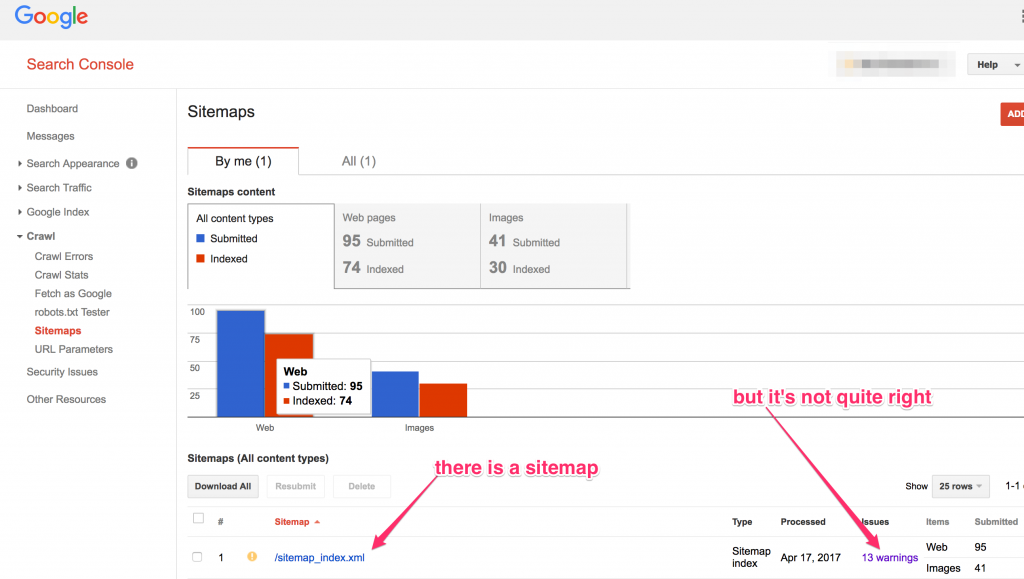 Here you can see that there is an XML sitemap but it has some warnings.
If you have an XML Sitemap it should be simple and neat. Adding optional tags and instructions can compromise the XML sitemap's integrity, and bring about search bot confusion.
Use W3's syntax checker to evaluate your XML.

Malware Scan and Canonical Header Check
Many search engines are effective in identifying malware. Nonetheless, it is advisable to scan your website to scrutinise headers and identify potential risks.
Here's how to check it:
Use this tool (https://aw-snap.info/file-viewer/).
Site Speed
Site speed plays an integral role in SEO. A small change in site speed can have a massive positive impact on indexation, user experience, as well as conversions.
Source (http://www.yottaa.com/)
Here's how to check it:
You can use Google PageSpeed Insights (https://developers.google.com/speed/pagespeed/insights/) and Pingdom (https://tools.pingdom.com/) for this part of the audit.
Pingdom website Speed Test

Each tool has exceptional benefits. Pingdom gives you a comparative analysis and site speed in raw seconds. Their waterfall analysis will show you precisely where the delays are taking place.
Google PageSpeed Insights
Google (https://developers.google.com/speed/pagespeed/insights/) is useful too due to its mobile analysis. This is in light of the fact that load time on mobile devices influences the perceived quality of a website as well as its search traffic.
What Should You Look For?
There are several things that can slow down a website, but here are the most significant ones:
Code to text ratio — Too much code can increase load speeds dramatically.
Page Size — Pagers over 1.5 MB big are at risk of reduced load times.
Image file size — If images take up over 75% of the whole page's file size, you should be worried. Consider compressing all images on the page to save space
Caching — Caching should be installed, activated, and optimised to encompass as many cacheable elements as possible.
Script minification, externalisation, and combination — Your developer should identify code that can be eliminated, minified, or externalised to enhance your website speed.
Google provides a user-friendly report that will guide you on how to enhance site speed. Simply follow the instructions on the report and you will see a significant improvement in your website's SEO.
Mobile-Friendly Test
Here's how to check it:
The Google Developers Mobile-Friendly Test (https://search.google.com/search-console/mobile-friendly) is the best tool to use.
What Should You Look For?
If the result is "Awesome", then all is well. Otherwise, you will have to fix the listed problems
On-page SEO Audit
A comprehensive on-page or content audit should produce a list of all pages of the website in a spreadsheet, with detailed data on each page. Hence, the choice of whether or not to produce such an audit will depend on:
The size of the website
The client's needs
The goal of the audit
The cost of the audit
Screaming Frog SEO Spider (https://www.screamingfrog.co.uk/seo-spider/) is the most effective tool for content audit, especially for page-by-page analysis. You can perform this audit on any website.
Menu Navigation
The layout and functionality of the main navigation are critical to SEO as they influence user experience. Hence, the site's main navigation should be:
Comprehensive – It should get to the site's main sections with at most two clicks.
Simple – A navigation menu with more than seven main features begin to overwhelm the brain.
Logically arranged – function over style here please! Artistci navigation menus normally don't make sense.
Keyword-focused – It is advisable to include an obvious keyword focus in the menu navigation. However, don't stuff every navigation element with a huge long-tail keyword.
Footer Navigation
You need to ensure that the site's footer navigation (if it exists) is:
Useful – It should provide access to the site's most important pages.
Logical – It should follow the main navigation's pattern.
Strategic – The footer is normally the best place to display business' contact information.
URL Analysis
URLs play an integral role in SEO due to the fact that they are the path that search engines follow. Hence, you should include the right keywords in the URL.
The URL should also capture what the web page is about. Check URLs to ensure they:
Contain relevant keywords
Are succinct – not too long
Are neat and symbol-free
Have no capitalization, which can create confusion and traffic deviancy
Have dashes, instead of underscores, to separate words.
NAP Presence
Any business with a local presence needs to have NAP presence – Name, Address, and Phone Number – on its website, especially in the header and footer.
You should integrate maps and relevant local keywords in a bid to improve user experience and achieve keyword relevance for local searches. Likewise, it is imperative that the NAP is consistent in all its online occurrences and mentions. Consider using Moz Local (https://moz.com/local) to ensure the consistency of your NAP.
HTML Sitemap
A HTML sitemap presents an excellent way to create a strong website structure and complete indexation of the website's content. It should be just a single click away from any of the website's pages. In that light, you should put it in the footer.
Breadcrumbs
If your site has breadcrumbs, run a quick scan to make sure they are relevant and functional. In addition to providing a chance for schema markup, breadcrumbs are beneficial for navigation, provided they convey the true position of the page in the overall website structure.
Main Page Content
The homepage is the site's most-visited page so the main content page needs the best of SEO care. You should check the page to ensure:
It targets the right long-tail keywords for its industry.
It includes sufficient concentration of the keyword.
It has sufficient content. A homepage should have at least 400 words of optimised
Consistent and Frequent Content Production
You should produce content regularly for your site to remain competitive. In fact, websites updated every week or more frequently maintain good content publication velocity. This keeps them actively indexed and ranked.
To check how Google is indexing your content, just perform this Google query: site:www.yoursite.com, and then click "search tools," → "anytime" → "past week" (or any other timeframe).
Page-by-page Analysis
Now, you need to delve deep into each page of the site. To make it easy, consider creating a checklist, like the following:
Page Title – The page should not only have a title, but the title should be within the standard length of 30-35 characters, relevant, and include keywords. Also, ensure there is consistency in how the title is set, including the symbols used.
Meta description – Check if the page has a meta description and whether it is of the right length and engaging for users.
H1- Check if the page has an H1 and ensure it is relevant and optimised.
Keyword focus and representation – Normally, it is important for every page to have a unique keyword focus, with the keyword occurring on the page with sufficient frequency and semantic variety.
Copy – The page should have enough copy, and the copy reflecting the page's keyword focus.
Visual and interactive content – Make sure the page has relevant and engaging imagery and the videos are playing. Also, there should be functional interactive elements.
Alt tags – Images should be optimised with correct filenames and tagged with relevant keywords.
Internal linking – The page should have at least one internal contextual link. In fact, a website with strong internal linking plays an integral role in creating a website with sturdy internal architecture.
Last updated – Frequently changed pages normally rank higher. Hence, consider revising pages that haven't been updated in at least one year.
Broken links – No page should have broken links.
Authority – It is good for the pages to be written by copywriters who have refined knowledge of the content.
Unique content – Content on each page should not be duplicated elsewhere on the site, including H1s and title tags. Likewise, the content should not be copied from external sites. Otherwise, you may suffer duplicate content penalization.
Ads – Ads may overshadow the purpose of the site and undermine user experience unless the site's main goal is Ad revenue.
Bounce rates – The main pages' bounce rates should not be too high or too low.
Layout and Readability – Be sure that content width, kerning, as well as font type, size, and colour all translate to improved site layout and
Outbound links – Linking out to authoritative websites can enhance your website's co-citation and co-occurrence.
Overall value – The page should deliver value to the user. If it serves a purpose or provides solutions to a problem, then it's definitely valuable. Otherwise, it should be revised.
Call to action – If further action is expected, the page should include appropriate CTAs, which encourage the user to take the next desirable step.
Off-site Audit
An Off-page audit is largely about backlinks so you need to be familiar with backlinks in order to perform it effectively. The Off page section of the audit and backlinks in particular can have a huge impact on the site's SEO rankings so this part of the audit can be the important when it comes to SEO performance.
There are several tools that you can use for a comprehensive backlink analysis. The best ones include:
As backlink analysis is all about comparison, you need to know at least five of your competitor's sites before starting the audit. Otherwise, it will be difficult to measure the effectiveness of the off-page SEO elements.
Also, note that most of the audit elements require that you have your website's backlink data. You can use one of the aforementioned tools to get the data.
You can also get the backlink data from Google, especially if you prefer working with raw data. Simply log into Google Search console → Search Traffic → Links to Your Site → Under "Who links the most" click "More" → "Download more sample links."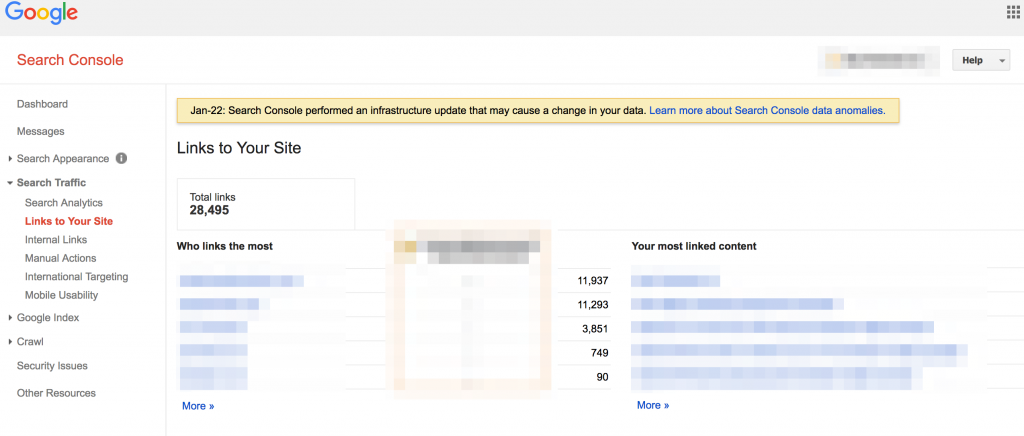 A CSV dataset will be downloaded which you can tweak, modify, and analyse depending on your skills with spreadsheets.
Incoming Search Traffic
Google's "Search Analytics" is an excellent tool for auditing a site's search traffic. To get the Incoming Search Traffic report, simply go to the Search Console → Search Traffic → Search Analytics.
The chart provides an in-depth understanding of the website's search viability, performance, and ranking. It serves as the starting point for a detailed analysis of the site's off-page elements.
Site Penalties
You need to check if the site is penalised or not. If you are hit with a penalty that will of course hinder your SEO performance and would need to be rectified ASAP.
Note that there are two main types of penalties:
Manual Penalty – This is served by Google itself and enacted by a real-life human being. You should be really worried if your site suffers a manual penalty.
To check for a manual penalty, go to the search console → Search traffic → and "Manual Actions".
Algorithmic Penalty – This is levied automatically based on the different changes in Google's search algorithm. When Google changes it's algorithms it may or may not have an effect on your search performance.
Barracuda (https://barracuda.digital/panguin-seo-tool) has a really effective tool for checking algorithm penalties.

Domain Authority
You can use Moz's domain authority tools to check the Domain Authority of your site. In fact, Moz's "domain authority" ranking assigns every site a logarithmically scaled number value. Namely, the higher the number value, the more authoritative the site is.
Page Authority
It is advisable to examine the Page Authority for the website's most critical pages.
Link Quantity
The total number of links is an excellent gauge of the domain's overall power and authority. Nonetheless, you can't rely on link quantity alone to gauge the site's health, since some links can be harmful, such as those created through blackhat SEO, putting your site at risk of penalization.
Link Velocity
Generally, a site should experience a gradual and stable growth in links over time. A significant increase in links could be indicative of:
The site has gone viral
The site is a victim of bad SEO
In both cases, you should monitor the trend and analyse the links. Likewise, a notable increase in low-quality links could be indicative of spam factors, which expose your site to penalties.
You can use the following tools to measure link velocity:
AHrefs
Majestic
Link Research Tools
Deep Link Ratio
Deep links are links that target the site's internal pages. They are considered more reliable, and hence more valuable to the site's overall integrity and authority.
In that light, a website needs to have more deep links compared to homepage links. A deep link ratio of 75% is perfect, but any ratio above 50% is okay.
TLD Variety
Top-level-domain or TLD refers to website's domain type. Healthy websites have mostly .com and .org referring links. Likewise, .edu and .gov TLDs are considered authoritative and can present a great link reputation to the recipient websites.
Link Trust and Authority
A very high number of low-quality and unreliable links can undermine the site's authority and trust.
Hence, it is imperative that you examine the authority and integrity of the referring links. Links Research Tools can be of great help here.
Link Theme
The website should be getting links from other relevant websites. These kinds of websites are normally classified according to their general theme.
You can use Majestic or Link Research Tools to analyse the link theme.
Make sure the theme of the linking site is relevant to your site.
Anchor Text Analysis
Healthy anchor texts should be branded. As such, referring links should use anchors that include the brand name.
Naked URLs are also healthy anchor texts. You should be worried about anchors that contain too many keywords. Likewise, having more than 50% image anchors is not healthy.
Redirect/Follow/No-follow Ratio
Here are three types of incoming links:
Redirect — links that automatically redirect from another site or internal page
Follow — the standard href link from one website to another
No-follow — an incoming link with a no-follow tag.
A ratio of at least 90% followed links is fine. If there's a significant amount of redirects and no-follows, you should investigate the reason behind it.
Spammy Links
Every website is prone to harmful links. Unfortunately, a definitive solution to the problem of spammy links is yet to be found.
Nonetheless, Moz and Link Research Tools can be of some help in dealing with the issue. Also, consider downloading the site's backlinks and cherry-pick through them to ascertain the nature and authority of the respective linking websites.
Link Attrition
Websites can also lose links. Hence, consider analysing link attrition metrics to determine the speed at which this is happening.
If the rate at which the site is losing links is high, it could compromise the site's authority. It could also be the result of a technical problem and should be investigated as soon as possible.
Brand Mentions
Don't confuse brand mentions with links. A brand mention refers to when the website is mentioned but not linked directly.
Brand mentions are a great source of authority for websites as they play an integral role in promoting the site's reputation.
You can use Moz's brand mention tool to measure such occurrences. The Google query technique is also effective. The technique involves excluding your site's URL and social media profiles from the search, and manually analysing the SERPs.
Bonus Tip: All-In-One SEO SaaS Tools
Instead of using many different tools for the different aspects of the SEO Audit, you can capitalize on the convenience of All-In-One SEO SaaS platforms, such as Serpstat.
Besides being able to effectively conduct the usual SEO audit procedures, such as Keyword research, backlink analysis, position tracking, etc., on a single platform, a good All-In-One SEO platform will also give you the ability to:
Expand your website pages' keyword pool with the most effective and relevant keywords.
Find ideas for contents that your target audience wants to see
Use your competitors' best strategies to boost your site's search engine performance.
Identify weak and strong aspects in your competitor's site and capitalize on them to your advantage
Create custom branded reports.
Final Thoughts
An SEO Audit is a comprehensive assessment of a website through the search engines' eyes. If you are serious about search engine rankings and the success of your online business, you will strive to do SEO audit regularly.
A properly conducted SEO Audit should provide a deeper insight into your site, each page, and traffic in general. It is an excellent way to enhance performance and ranking in the SERPs.
Note that if your website is small, it is not advisable to overdo the audit. You don't need to waste time dwelling on stats while there are other important things that you can work on. If you have a medium to a large website, however, you need to perform comprehensive audits on a regular to identify any issues and fix them on time before things get out of hand.
This detailed guide is all that you need to be able to conduct a comprehensive SEO Audit on your site. If you want to present the audit to a client, it is imperative that you package the report in a presentable way.