Formerly Known as Ernst and Young
Day four of my Digital career took us from the silicon roundabout lair kindly provided by Moo to the flash London Bridge based glass encased EY building. Lovely!
Today's agenda would be focused on panellists that were working on social media in house and brands. I was really interested in this day and hearing what the panellists have to say as an alternative is working in agencies.
Laura Oliver, Senior Community Manager, The Guardian
I have to come clean and say that from the moment we were given the list of panellists I was most excited about the what the Guardian's Laura (@LauraOliver) had to say! I LOVE pretty much all of the output from the Guardian Media Group. The Guardian and Observer papers, the Tech and Film weekly podcasts through to their mobile apps and many more. They for me are the epitome of how social and digital media can be used to change a brand. I now see the Guardian as a broadcasting "Tour de Force" rather than "simply" a newspaper.
Laura went to university in Edinburgh and did not study for a career in social media. She clearly stated that when she was graduating from university the job that she does now definitely did not exist.
She gained experience working on B2B news sites based up in Edinburgh before going back to university to study journalism, this time based in London. During the talk she tried to explain the depths and breadth of the Guardians output. One current project The Counted, tallies the recorded deaths of people killed by police in The US. This count further broken down into ethnic groups and, perhaps, reveals a more chilling picture of the state of US law enforcement.
Laura likes turning her hand to everything and this is exemplified all the more when we find out that she heads up the team that looks after all of the Guardians Instagram and Twitter accounts which range from lifestyle to travel to tech to books and a lot lot more!
Keri's (@KeriTweet) desire to be by the sea took her to Bournemouth University studying Interactive Media Production. She realised the importance of getting work experience and took it upon herself to apply for internships but targeted companies that didn't know they needed her! Testament to the "creating your own role" ethos!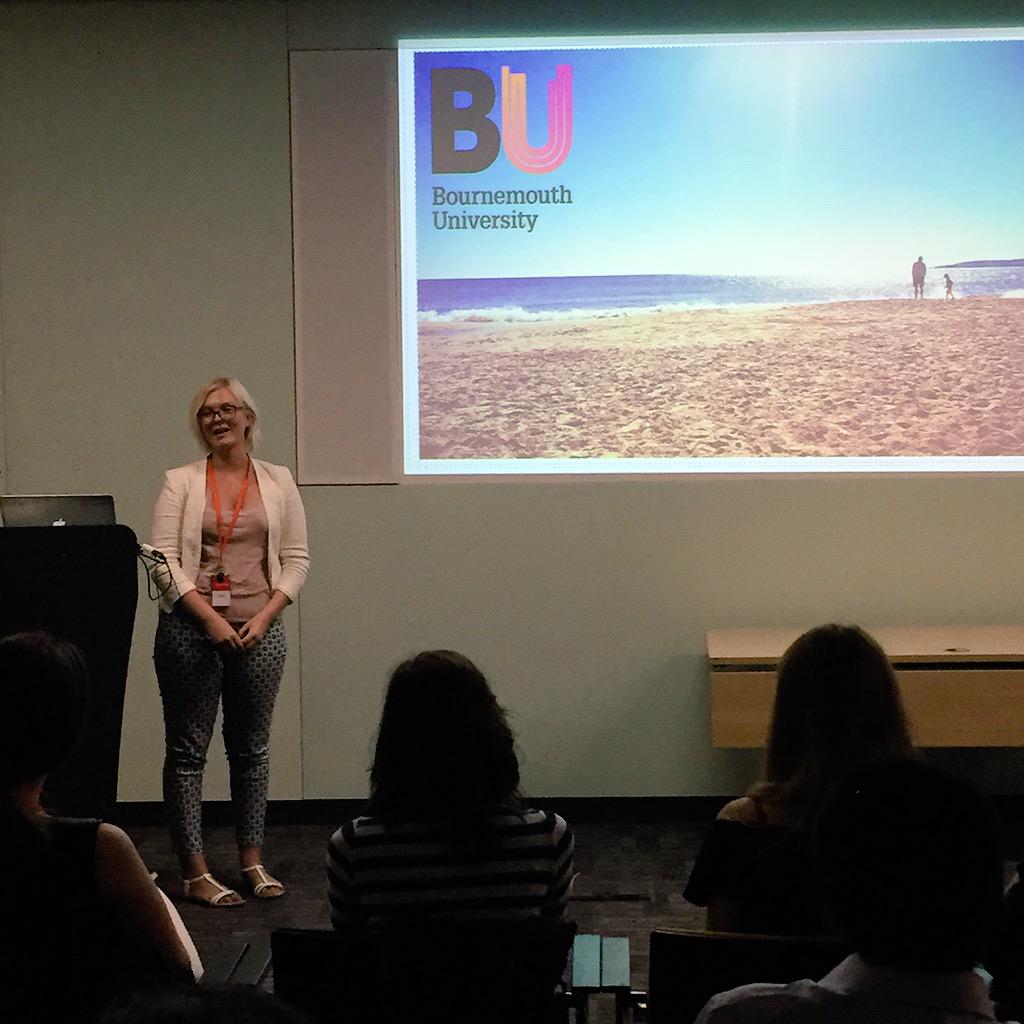 Keri worked at two different agencies whilst on her year away from university and from the stories and pictures looked like she had a great time. During her time working at agencies her role lead her to work for an agency that deals with the PR for films. As a cinephile this proved to be a dream job for Keri and one that made me very jealous!
The opportunity came to move In-house to work for Cancer Research came about. This was a chance not to be missed and has been extremely rewarding and fun since the move. I was genuinely surprised at the amount of work that Cancer Research get involved in, with some of the most innovative social media campaigns that I have ever seen. With people like Keri at the helm cancer will be excommunicated sooner rather than later!
Charlie Duff, Global Social Media Relations, EY
Charlie (@Charlie_EY) introduced herself and her humble beginnings with the quote "Though she be but little, she is fierce". This played out through the course of her presentation. Whilst at university she was the features editor for the student newspaper, which peaked her interest in journalism as a career. This lead her to apply for a masters in journalism on course that she couldn't afford, in Wales.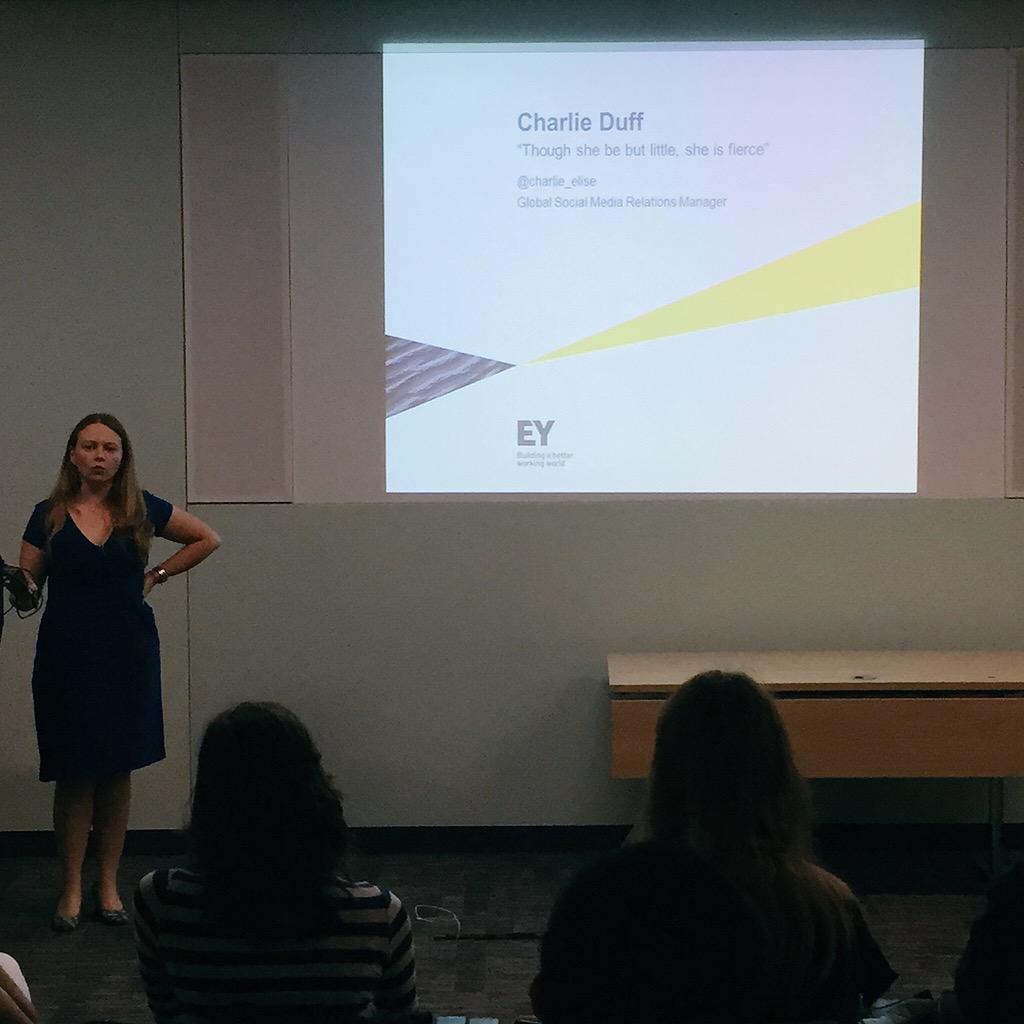 As the costs mounted up Charlie applied for and won a Scholarship, which meant that she could stay on and finish her degree! There were a couple of roles including working for a magazine that was based in a back garden, which then lead to meeting the people that would form the backbone of her life and the move to London.
After the first role in the shed she always got a job via knowing people within the company. It can't be emphasised enough. Network , network, network!
I really liked the way that Charlie signed off whilst talking about the people that she looks to hire. She only hires people that are better than her.
I wonder how true that is of other employees, but with an attitude like hers the world will keep spinning on it's true axis.
Beetroot Macaroons with Goats Cheese Filling
I can't sign off todays report without extending a huge thank you for hosting us and the sublime food supplied by Charlie and EY. The pièce de résistance being savoury macaroons filled with creamed goats cheese. Yum.
It was sad leaving EY, not only leaving the food behind, but also knowing there would only be one day left of #MyDigitalCareer. Booooooo!
K*